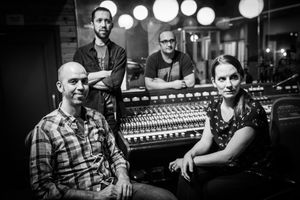 Way North - New Dreams, Old Stories
Rebecca Hennessy - Trumpet, Voice
Petr Cancura - Tenor Saxophone, Voice
Michael Herring - Bass, Voice
Richie Barshay - Drums, Voice
New Dreams, Old Stories, the latest release from avant-folk-jazz quartet Way North, seeks to connect the past and present of our collective human experience. Old stories acknowledging a vast musical heritage are woven together to create fresh new sounds with bold explorations, singable melodies, and even singalongs. Drawing on the musical lineages of jazz and bebop, as well as folk musics from South America and the American South, Way North's compositions are a diverse collection of old stories to inspire new dreams and hope for society.
There's a palpable joy in this music that comes from having recorded on the heels of a tour. The band is tight and loose, freely improvising and having fun while fully in control of the music they are playing. That they love playing together is obvious, and this feeling is contagious, drawing listeners into their love of folk musics bound by improvisation and jazz. Way North is about bringing people together and spreading uplifting music in the spirit of community. This is jazz you can dance to!
Way North is a community where all of the band members contribute music. New Dreams, Old Stories begins with Hennessy's Play - their opener for every show - inviting the listener in with a cozy groove. Hennessy also contributed the epic and dreamy New Way Through, the hard-not-to-sing-alongto Dr Good, and co-wrote the beautiful When You Say Goodnight to Me with Herring. Second on the album is Cancura's no-nonsense blues I'm Here to Stay. He continues the celebration of sound with the title track, New Dreams, Old Stories and also contributed the low-down and dirty Lonely Hearts. Herring's first composition on the album is the avant-bop Château Gonflable. His other compositions include the gorgeous bass feature If Charlie Haden couldn't write a song to bring world peace, what hope is there for me? and the ever so fun and groovy sing-along Come Over to Our House. Barshay shares with you the Venezuelan musical story Pajarillo Verde (Green Parrot) and also contributes a unique signature arrangement of the great Jackie McLean composition Dig.